Last Updated October 14, 2022
Contemplating a move to Eugene, Oregon? Then you're probably asking yourself the all-important question: where in Eugene is the right place for you to land?
Naturally, opinions differ. Eugene has a diverse assortment of neighborhoods, and where you'll gravitate toward depends upon many factors. Access to work or school are big ones, of course, and you'll also want to find a home that has the features you need at a price you can afford. (That's easier said than done in Eugene's exceptionally tight market.)
Once you've got the basics out of the way, though, it's time to start considering other factors. Why are you considering relocating to Eugene? Which particular slice of the Eugene life are you eager to make your own?
We, of course, have our own biases. We're South Eugenians through and through and thrive on the funky, thoroughly unique vibe of the city's cultural heart. Our specific rankings reflect that predilection. But, depending on your preferences, we think almost anyone will find one or two of the following 'hoods right up their alley.
Keep in mind that the following is just a sampler: the only way to really get to know Eugene's neighborhoods is to pay a visit and get a feel for them yourself.
One of our specialties is helping out-of-area folks get acquainted with the ins and outs of all Eugene has to offer. We're always up to give you a driving tour of Eugene's different neighborhoods, or just to chat and give you our inside perspective if you're more of a do-it-yourself-er. You can read more here about how we are here to help if you're considering relocation.
Read on as we take a tour through… the 5 Best Neighborhoods in Eugene.
Best Places to Live in Eugene Oregon – Number 5: Crest Drive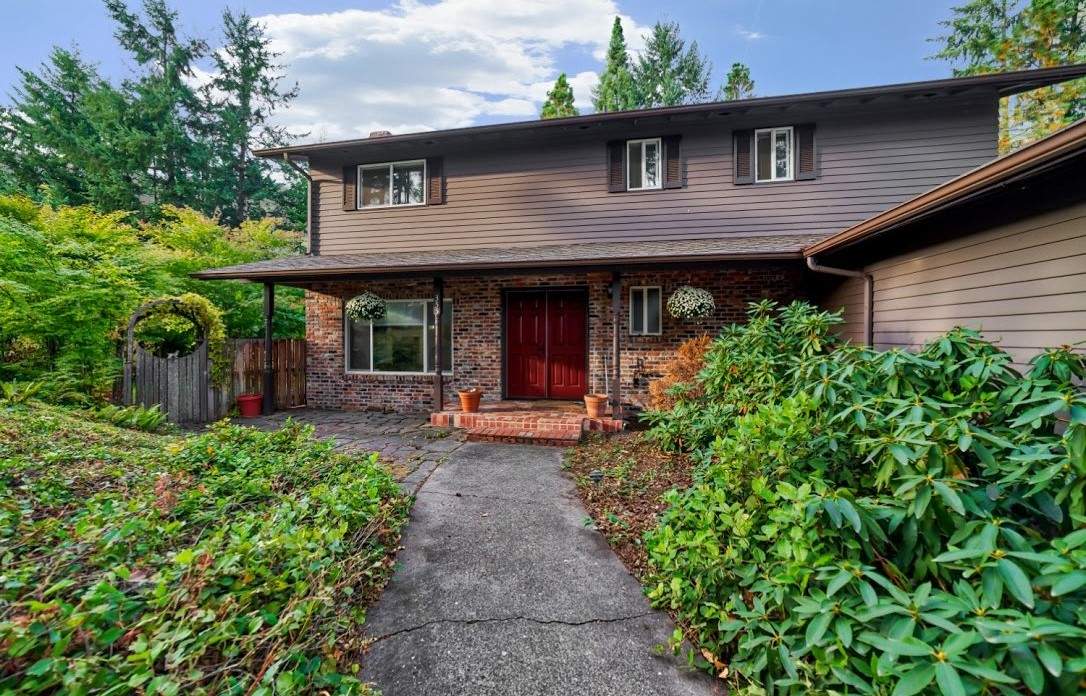 As you head up into hills from the busy streets of southwest Eugene, things start to feel pretty different. The bustle of the city recedes into the background, and the air feels just a little fresher, the scenery just a little more vivid.
After a busy workday in Eugene's city center, maybe you're looking for just that–but you don't want to be too far away from the action. Well, consider looking for your new home in the Crest Drive neighborhood. Just a few minutes' drive or a zip down the hill on your bike will take you downtown, to the University of Oregon, or to the shopping and recreation of Southeast Eugene.
What's even better is that being in the Crest Drive neighborhood puts you in launching distance of Eugene's own wine country. Forget Sonoma County: a growing number of local wineries are putting out wines to rival that region's finest. Cycling on the Lorane Highway to the north and east of here is excellent, and be sure to check out the Territorial Wine Trail. The fall leaves are simply fantastic.
Heavily-treed lots and quiet, winding streets predominate, and deer and wild turkeys are frequent visitors. Two-story, 1970s-vintage homes are the most common, and prices are around average relative to the rest of Eugene. If you're looking for newer developments in similar environs, consider heading west to the hills above the Churchill neighborhood.
View Crest Drive homes for sale
Best Places to Live in Eugene Oregon – Number 4: Cal Young
Even though our loyalty belongs to South Eugene, we wouldn't want to leave the neighborhoods north of the Willamette entirely off our list. Cal Young definitely belongs on any list of the top neighborhoods in Eugene.
In terms of real estate, there's something for practically everyone. There are plenty of homes throughout Cal Young in the $300,000-$400,000 range, but the neighborhood also features several of Eugene's most exclusive subdivisions.
The homes around Goodpasture Island Loop, in particular, next to the Willamette River, are some of Eugene's most luxurious. The Eugene Country Club and Oakway Golf Course naturally feature just the kind of real estate you'd expect to find just off the fairway.
But whether or not you're looking to spend a pretty penny to live here, being in the Cal Young neighborhood means easy access to some of Eugene's finest shopping. Valley River Center is as close you'll get to a traditional shopping mall in Eugene, and Costco is right here too. If you ask us though, Oakway Center is the real star of the show here.
Trader Joe's is, well, Trader Joe's, but the shopping center also features the Euphoria Chocolate Company, Eugene Running Company, Nike Store, The Broadway Wine Merchants, and more. We're maybe most excited about Sabai, featuring delectable Thai fusion cuisine and some of the finest cocktails in town.
Cal Young has plenty of parks and schools too, making it a great spot for families. Easy access to all of Eugene's main expressways makes it a convenient hub if your work (or your kids) take you all over town. It may be a bit more, well, normal than many other parts of Eugene, but if you want to get in touch with that vibe, a short trip across the river will get you right there.
Best Places to Live in Eugene Oregon – Number 3: Fairmount
As you're likely aware already, the University of Oregon is a huge draw for many people relocating to Eugene. It's Oregon's top public university and home to almost 25,000 undergraduate and graduate students.
If you're moving to Eugene to pursue a degree or work at the university, we're guessing that you'll want to be close to the U of O – but not too close. Land in the West University neighborhood or the area immediately south of the U of O, and you'll have to deal with steep prices, an itinerant student population, and frequent parties.
That means the Fairmount and Amazon neighborhoods are likely your most attractive options. In the case of Fairmount, the U of O is just a few blocks to the west, but student rentals aren't nearly as predominant as in other locales. Instead, you'll find plenty of working families, professionals, retirees, and of course university professors and other UO employees.
The Fairmount neighborhood has plenty else going for it too. The corner of 19th and Agate features a holy trifecta of Eugene's finest ice cream parlor (Prince Puckler's), patisserie (Sweet Life), and Italian eatery (Beppe and Gianni's Trattorria). In the warmer months, there's even a weekly Farmer's Market.
But Fairmount's main attraction is probably the sprawling Hendrick's Park. Occupying 80 wooded acres, it's a popular destination for city residents looking for a bit of seclusion and its world-renowned rhododendron garden. There's plenty of desirable real estate surrounding the park, though expect prices toward the higher end of Eugene's market.
Best Places to Live in Eugene Oregon – Number 2: Amazon
The Amazon neighborhood is home to many of the features that make Fairmount one of Eugene's most-desired neighborhoods. Just a short distance south from the University of Oregon, it's perfect for graduate students and university employees, but anyone with a family should also put this one at the top of their list. Runners and dog owners (there are a lot of both in Eugene) should also take note.
The neighborhood's centerpiece is its eponymous urban oasis, Amazon Park. Bike paths, mulched running trails (goodbye shin splints), extensive open space, a swimming pool with water slides, a recreation center, and a dog park make it one of Eugene's premier city parks. With the latter, there's even a separate fenced area for small dogs and puppies to enjoy. Enjoy golf? Laurelwood Golf Course, the city's highest-ranked, is just up the hill.
South Eugene High school is right next door to Amazon Park, helping to put this neighborhood over the top. It's Eugene's top-ranked public high school, and its open-minded, intellectually-stimulating atmosphere has earned it the affectionate moniker "University of South Eugene."
On the east side, Hideaway Bakery is our pick for Eugene's finest fresh-baked bread and pastries. During the summer, wood-fired oven Tuesdays are an occasion not to miss, with outdoor seating, live music, and unbelievable Neopolitan-style pizzas.
The Amazon neighborhood features its own organic grocery store and wine cellar, Sundance Natural Foods, with Sundance Wine Cellars next door. Black Sun Books nearby is one of Eugene's finest independent bookstores. Willamette Street, mentioned above, is easily accessible to the west, giving Amazon residents the best of many worlds.
If there's one word we'd use to describe the Amazon neighborhood, it's "walkability." You won't find anywhere in Eugene with easier access to shopping, recreation, and schools. The real estate isn't half-bad either: prices tend toward the upper-middle end of what Eugene has to offer, and you'll find plenty of updated ranch-style homes with spacious yards perfect for gardening. For all of these reasons and more, Amazon is our pick for Eugene's number two neighborhood.
Best Places to Live in Eugene Oregon – Number 1: Friendly/College Hill
Here it is folks, our pick for the best place to live in Eugene, Oregon. There's a certain forward-looking aspect at work here. Part of our job as real estate agents is to forecast future real estate trends, and we see Friendly as Eugene's most up-and-coming spot.
Investors, young professionals, and working families take note: this is fast becoming one of the city's most-desired neighborhoods. In the past several years, eco-friendly townhouse developments have sprouted out around the neighborhood's central hub at Friendly and 28th, adding an urban touch generally not found elsewhere in Eugene outside of the downtown area.
With these developments have come increasing foot traffic to the well-loved Friendly Street Market, an area fixture, and J-Tea, a teahouse featuring some of Taiwan and mainland China's finest loose-leaf varieties. Oh, and there's also a new food cart pod, The Friendly Garden, featuring several of Eugene's finest carts and, crucially, some of the area's finest microbrews (and kombuchas) on tap.
Traditionally, the west side of Friendly, below College Hill, was a working-class neighborhood. There are a variety of homes with plenty of mid-century ranches and bungalows, many of them lovingly remodeled, along with pockets of larger, higher-end homes. Washington Park is one of the city's finest medium-size public parks, and Westmoreland Park features frisbee golf, a quintessentially Eugene past-time. Shopping and restaurants are easily accessible off 18th and Chambers.
Up College Hill on the east side, you'll find older homes ranging from higher-end to luxury. With their secluded vibe, it can be easy to forget that you are smack-dab in the heart of Eugene. Downtown is just north, the University of Oregon just east, and South Eugene just south.
Just over College Hill, Willamette Street runs from north to south and features a plethora of some of Eugene's finest shopping and restaurants, including the much-loved Market of Choice.
Try 16 Tons Cafe next door for Wandering Goat coffee beer, and crepes, then Nature's Pet Market to treat Rover or Fido to the best. Down the block, enjoy a glass of braggot, a beer and mead hybrid,  at Viking Braggot Co. then go to Capella Market, one of Eugene's oldest and most-loved organic groceries
Home prices here are bound to trend upward. When affordable starter homes go on the market here, they go fast, and bidding wars are common. Once you land here though, the neighborhood lives up to its moniker. This is a genuinely friendly, close-knit place, where backyard barbecues and sidewalk conversations are the order of the day.
View Friendly Neighborhood homes for sale
Best Places to Live in Eugene Oregon – Honorable Mention: Whiteaker
The Whiteaker–or "Whit" as the locals call it–is definitely not for everyone, so we didn't want to include it in our top 5 proper. It also isn't particularly easy to find a home here. But if you're relocating to Eugene for its unique culture, look no further.
Here, you'll find inspiration among some of the city's most out-there artists, musicians, and other creative folks. With a colorful cast of characters walking these streets at all hours of the day and night,  you won't have to go far to find stimulating conversation. After all, you are in the birthplace of Ken Kesey and his merry band of pranksters.
Take a walk around the block anywhere in the vicinity of 3rd of Blair, and you'll see right away that you're not in Kansas anymore. There are plenty of dispensaries, obviously, but to overemphasize cannabis' role here would be to sell the Whiteaker short. Some of Eugene's best restaurants, cafes, breweries, and organic grocery stores are right here in the thick of things.
Ninkasi Brewing is nationally renowned, and Hop Valley Brewing and Oakshire Brewing are also top-notch. There's even a cider brewery: check out Wildcraft Ciderworks. Then there's local standby Sam Bond's Garage, our absolute favorite Eugene watering hole and music venue.
Tacovore offers an amazing selection of, you guessed it, tacos, with all ingredients locally and sustainably sourced. There are plenty of more traditional Mexican restaurants and food carts too, and even a large Mexican supermarket. Izakaya Meiji, where "East meets country and western," may be the world's only American-Western-themed Japanese whiskey bar and restaurant. Wandering Goat is Eugene's premier organic coffee roaster, and New Day Bakery offers excellent pastries, breakfast food, and a solid cup of joe.
Not surprisingly, real estate in the Whiteaker's heart is becoming more expensive. Prices along the outskirts are still fairly reasonable, though you may want to keep a bit of space between yourself and the very busy 6th Avenue, one of Eugene's central thoroughfares. If you want to be close to the action but not in the middle of it, with easy access to downtown, the Jefferson Westside neighborhood just south of here may be your best bet.
Want to look at the competition? Then check out our complete guide to Eugene neighborhoods. And just let us know if you'd like to view homes in these 'hoods or anywhere else in Eugene or Bend.