Last Updated June 16, 2022
Sure, Portland, Eugene and Bend get most of the buzz. But if you're relocating to Oregon, Springfield could be a solid choice.
If you've landed on this article, chances are decent that you've at least considered moving here. While our offices are based in Eugene (with another office in Bend), we've always done business in Springfield. Lately, it seems more and more of our clients are including Springfield in their home searches.
This makes sense. For one thing, people are simply being priced out of Eugene, particularly toward the lower end of the market. But there's more to the picture than that.
Prices have risen in Springfield – and inventory has gotten more and more crunched – right alongside Eugene's market. Clearly, Springfield isn't just a cheaper alternative to Eugene – it has plenty of its own things going for it.
Let's take a look at what makes Springfield a special place to live and what to expect from its housing market.
Important Considerations: Geography, Cost of Living, Economy, and Quality of Life
From Springfield, Oregon's beautiful Cascades mountains, a dream for hikers, mountain bikers, fishers, kayakers, and outdoor-lovers of all stripes, are just a short drive to the east down Highway 126. Meanwhile, the ocean and Oregon's majestic coastline are just over an hour to the west.
The climate is mild but toasty (and dry) enough in the summer to make the season's adventures enjoyable. Courtesy of Eugene, there's also easy access to a medium-sized urban center and all its amenities.
Traditionally, the cost of living in Springfield, Oregon has been significantly lower than its neighbor to the west, Eugene. But it isn't just that buyers are being driven out of Eugene. Increasingly, Springfield is becoming a destination in its own right.
No longer content to play second-fiddle to Eugene, it's seen a significant overhaul over the past dozen years or so. As a result, moving to Springfield doesn't have to mean a compromise in terms of quality of life.
Its downtown has been revitalized, with progressive civic policies easing the way for developers. And, with the construction of new walking, biking, and running paths along the Willamette River, Springfield now offers some of the finest urban natural areas you'll find anywhere.
As realtors, we do the most we can to help our clients understand the local market, and as a result, we pay close attention to the latest market statistics. We'll dive further into the numbers behind the Springfield market's shift below. But first, let's take a deeper look into the question: why are people moving to Springfield, Oregon?
Homes for Sale in Springfield, Oregon
Springfield Versus Eugene: Why People are Choosing to Move to Springfield, Oregon
Springfield's neighbor, Eugene has a long-held reputation as a progressive, countercultural mecca. Springfield, meanwhile, has historically had deep connections to the timber industry, with its population running on the conservative side.
Springfield's industries have since diversified, though. Healthcare professionals are in luck: Springfield is home to the recently-constructed Sacred Heart at RiverBend, the region's primary hospital and by far Springfield's largest employer. McKenzie-Willamette Medical Center midtown is also a top employer.
Office, administrative, and sales jobs also make up a significant portion of Springfield's employment opportunities. The tech industry has a strong presence too.
In reality, the cultural boundary between Eugene and Springfield is becoming increasingly blurry. It's true that there are places in Eugene where the odor of cannabis mixed with stale patchouli is never far away. Flip through the local weekly newspaper, and you'll certainly catch wind of a particular political vibe.
Conversely, go to certain parts of Springfield and you'll most likely encounter potent reminders of its conservative heritage and the same generic shopping complexes you'll find anywhere else.
But, if we're talking about places to live, work, raise a family, and engage your community, the stereotypes become less important.
Especially in the West Springfield neighborhoods of Kelly Butte, Glenwood, and Downtown Springfield, you'll be just a stone's throw and a skip away from the heart of Eugene and all that makes it unique. But you'll also have access to plenty else. And, it bears mentioning again, your pocketbook will benefit (for now) from Springfield's lower cost of living.
The areas around downtown boast the kind of walkability that would be the envy of most neighborhoods in Eugene. Whatever is on your checklist of places to go, you're not likely to miss it here.
Downtown Springfield has its own craft brewery (the excellent Plank Town Brewing), numerous coffee spots (our favorite is the Washburn Cafe), a performing arts venue, organic grocers (Main Street Market and Wynant's Family Health Foods), yoga studios, a vegan cafe,  a bakery, and two pizzerias (Mezza Luna and Bartolotti's, both excellent). All of this is within a half-mile radius.
Oh, Downtown Springfield also features an ax-throwing studio, not to mention Public House Hub, featuring a beer hall, food carts, outdoor seating, and a whiskey bar. It was recently ranked number 8 on Men's Journal's "10 Coolest Places in America to Drink Craft Beer."
Springfield, Oregon is on the map now in other words, having stepped out finally from Eugene's easterly shadow. It helps that Simpsons creator Matt Groening has finally acknowledged what we've known all along: Springfield, Oregon is the real Springfield. The Simpsons mural downtown featured at the top of the page stands as a testament to this connection.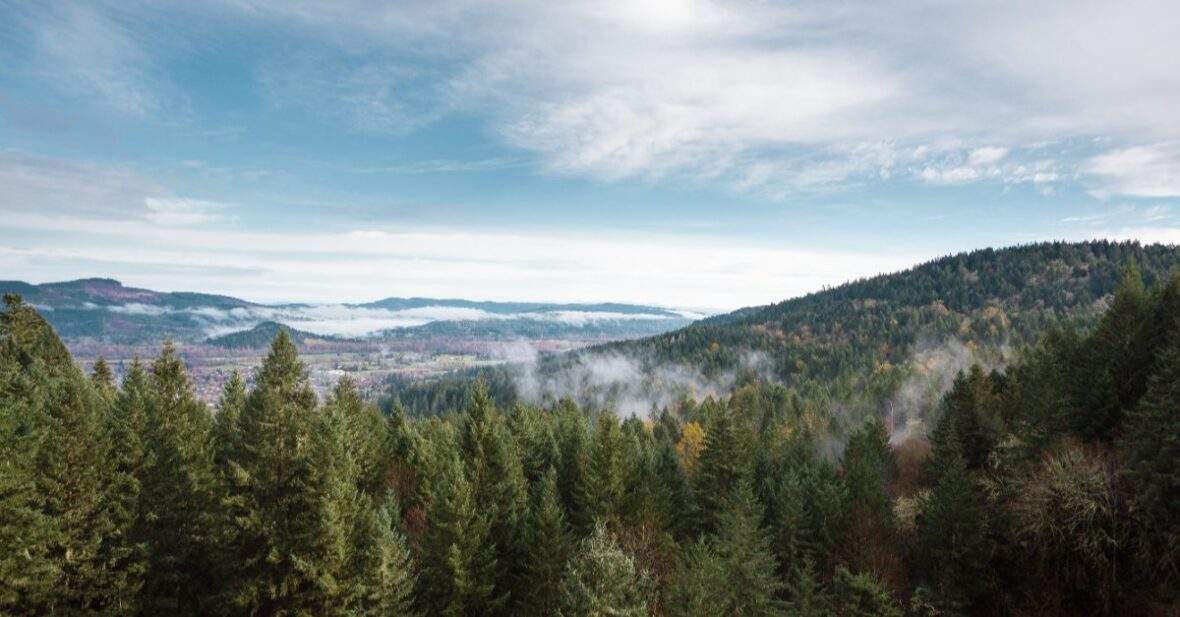 Getting to Know Springfield, Oregon's Neighborhoods
If all of the above sounds appealing (or most of it–we're still not sure about the ax-throwing), then the next step is to take a look at Springfield's various neighborhoods.
Mind you, Springfield doesn't have officially-designated neighborhoods. The effect is that there are a number of different ways to slice the pie. For our purposes, we'll divide Springfield into four different quadrants: West Springfield, North Springfield, Midtown, and East Springfield/Thurston.
West Springfield is centered around downtown, which we've covered already. Basically, if you want to be in the thick of things, West Springfield is the place to be. But it also features some of the area's most desirable homes, ranging from the $200k range all the way up into the $500-600k range.
The Washburne Historic District just north of downtown features a charming plethora of homes built at the turn of the 19th and early 20th century. Meanwhile, the Kelly Butte neighborhood west of Pioneer Parkway and south of Centennial Blvd. features a lovely view atop its eponymous butte as well and access to the Willamette River and Island Park. There are plenty of lovely mid-century homes and a handful of newer properties.
Midtown, spanning the area south of Highway 126 between Mohawk Boulevard on the west and 42nd Street to the east, is usually considered one of the less desirable sections of Springfield. First-time home-buyers take note, though. Between Mohawk Boulevard and 28th Street, expect to find plenty of homes under $300,000 and even a few fixer-uppers selling for less than $200,000.
Walkability decreases, obviously, the further east you proceed, and central Springfield's commercial and industrial sprawl become more prominent. Larger, more recently-constructed homes start to become more common, however, available for less per square foot than you'll find elsewhere. South of Jasper Road, you'll find yourself within walking distance of Clearwater Park and the Willamette River, with its many walking and biking paths.
The East Springfield neighborhood, including Thurston to the far east, features a large concentration of affordable newer construction in the southeast. Elsewhere, 70s, 80s, and 90s-vintage homes are common. The hillside homes south of Highway 126 and east of Bob Straub Parkway particularly stand out, offering contemporary finishes and design, with prices typically in the $500-600k+ range.
Going further out Highway 126, million-dollar homes on acreage are not uncommon, giving you the best of both luxurious country-living and a short driving distance to the amenities of Eugene and Springfield. If these kinds of properties are your cup of tea, or perhaps simpler, more affordable homes on acreage, check out our Guide to Oregon Farm and Ranch Properties.
Last but not least, North Springfield, bounded by I5 on the west and Marcola Road and the McKenzie River on the east, is certainly worth considering. The streets north of Hayden Bridge Way and to the east of MLK Jr. Parkway feature some of Springfield's most desirable real estate, including scattered luxury properties, and some of the finest newer construction you'll find close to town. Further east, the neighborhood starts to feel a bit more rural, perfect if you're looking for a peaceful vibe without being too far from the center of it all.
The Springfield, Oregon Housing Market: Cheaper than Eugene, but the Gap is Narrowing
We promised a deeper dive into Springfield's real estate market, and that's exactly what you'll get here. After you've gotten a bit of a feel for Springfield's different neighborhoods, the next logical step is to figure out if you can afford a home that you'll want to live in.
Cheaper housing in Springfield means a lower cost of living than in many other parts of Oregon. But, as we've already emphasized, that may not be the case forever.
Through 2020, the median sale price for homes in Springfield was $309,000 compared to $352,000 in Eugene. At the same time, according to RMLS statistics, Springfield's average inventory is comparable to Eugene's, at times falling a bit lower.
In June of 2021, Springfield home sales hit a record median of $369,000. Inventory may be decreasing, while prices look to have cooled off since that peak . That's the case across much of the country, but Eugene and Springfield's exceptionally tight markets mean prices are unlikely to drop too much any time soon.
Neighborhood Scout lists the blocks from West Centennial to Mill Street in the heart of the area west of downtown as Springfield's fastest-appreciating. Several clients of ours recently made an offer on a cute bungalow in this neighborhood listed in the low $200k range. Their offer was well above list price, but with a total of 10 (!) bids on the table, they weren't the lucky winners.
This example is merely anecdotal, but it isn't an isolated one.  First-time home-buyers are feeling increasingly squeezed out of Eugene's market, particularly the trendier, ultra-competitive neighborhoods of South Eugene.
Home prices are more reasonable in North Eugene, particularly the northwest quadrant. Lately, however, more and more buyers have come to see Springfield as a more desirable destination than Eugene's northern reaches.
This is especially true of millennial buyers, who place a high premium on walkability. Whatever your generation, if walkability is important to you, we'd agree that West Springfield is just a better place all-around to buy a home than many parts of North Eugene.
Springfield, of course, has its less desirable areas too. It's difficult to make blanket statements about "Eugene's real estate market" or "Springfield's real estate market" when there's so much variation from neighborhood to neighborhood.
Nonetheless, when prices in one part of town go up, prices elsewhere tend to follow. It's also true that Springfield's market is tied to Eugene's to a large extent.
RMLS statistics don't apply a very fine-toothed comb in terms of Springfield's different neighborhoods. Still, the most recent figures point to an annual appreciation of, on the low end, 6.2% for Thurston/East Springfield and, on the high end, 11.3% for West and Central Springfield.
What to Expect if You're Planning to Move to Springfield, Oregon
In any real estate market, there are desirable properties, and then there are not-so-desirable properties. But, depending on how picky you are, both Eugene and Springfield's markets probably have few of the former and a surplus of the latter.
Part of it is that homeowners here have long been spoiled by a market strongly weighted toward sellers. That means there's less incentive to perform the kind of improvements that are mandatory in many other markets.
So, when attractive, move-in-ready properties with high-quality finishes go on the market in desirable neighborhoods, they go fast. That's true at most price points, let alone the first-time home-buyer range.
Navigating the market here is most often a matter of persistence and of some amount of compromise. It's going to be hard to take a weekend trip to Springfield and expect to find your dream home, even if you have plenty of cash to throw on the table.
There's no substitute for getting your own feel for Springfield's different neighborhoods. It almost goes without saying that you won't really know what's going on with a house until you've stepped inside and know where it sits in relation to everything else around it.
We often recommend to clients who are relocating that they consider a month-to-month rental, or even spend a whole year in the area before leaping into the housing market. It's advice that most realtors won't give because it doesn't lead to a quick sale. But in many cases, it's the advice we feel best serves our clients.
Eugene and Springfield's rental market is just as tight as the housing market. That's especially true if you're looking for pet-friendly housing. But at least there's a lot less at stake if you end up in a dud.
Having a better sense of just the life you'd like to live in Springfield, or anywhere for that matter, could give you a much better sense of exactly what your housing needs are. You might find yourself taking to canoeing, for example. It can actually be challenging to find a storage space that can accommodate an 18-foot canoe.
But whether you're just starting to think about moving to Springfield or have a job lined up and are ready to pull the trigger, we're here to advise you each step of the way.
We hope this article has been a good introduction, and we'd love to get more in-depth about your particular situation. Contact our Eugene office today, and we'll get you started on the right foot, wherever the process might lead you.